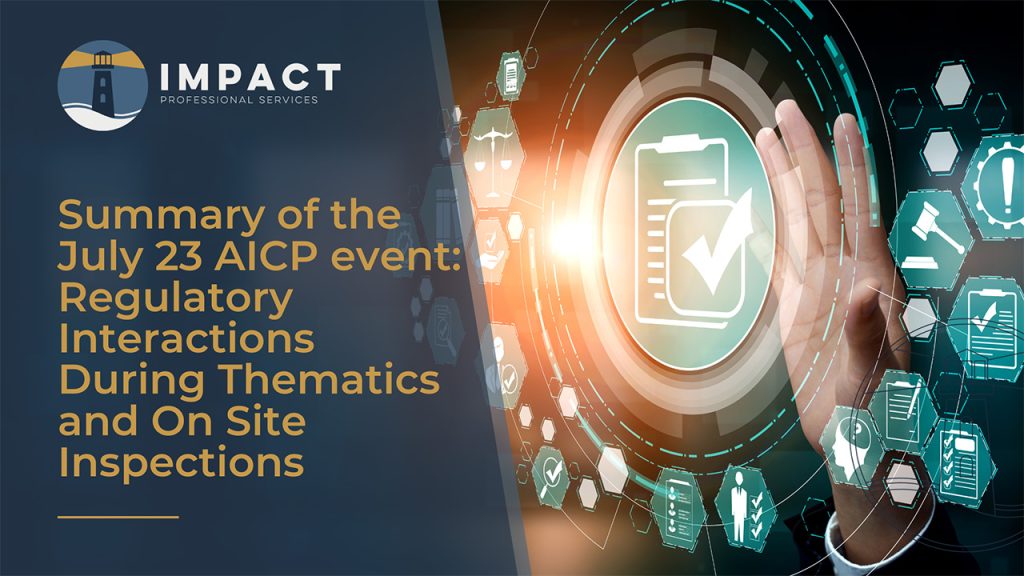 Summary of the Alliance of Isle of Man Compliance Professional (AICP) event: Regulatory Interactions During Thematics and On Site Inspections
Some of our team recently attended the July AICP session at the Imuseum.
The event consisted of a panel session covering the topic of 'Regulatory Interactions During Thematics and On Site Inspections' and will cover both FSA and GSC.
The panellists were:
Graeme Snape – Facilitator – CGR Consulting (Director)
Sinead O'Connor – DQ Advocate
Ijeoma Ibeawuchi – Deloitte
Kirsty Knight – Amber Gaming
Sheila Banks – Isle of Man Law Society
Samantha Crookall – Nedbank Private Wealth Limited
The topics that were covered included tips and insight into:
Internal pre meetings and preparation for the stages of thematics and on sites.
On Site – opening discussions, during a visit, close out sessions
Follow up questions – how to manage internally and evidence collation
Evidence folders and logs
The post visit report
Remediation plans to include agreement, budgets, planning, resource
Submitting the agreed plan to the Authorities and follow ups
Enforcement.
The session was aimed at those with less experience in on-site inspections and the Thematic process i.e. new MLROs / DMLROs / Heads of Compliance / Appointed roles; or those aspiring to these roles, or even those who have not yet experienced inspections.
The key take away points from the session were:
Take thematics and on-site inspections seriously
The key is to be fully prepared and understand the different stages of thematic reviews and on site inspections
Focus on the key assessments – BRA, TRA and CRA ensuring comprehensive supporting documentation is in place
Learn from previous thematic report findings shared by the FSA
Keep comprehensive and accurate records, this documentation will act as evidence and will assist with managing/closing off any actions.
Our experts at Impact Professional Services are currently supporting regulated Isle of Man companies through supportive mentoring – helping less experienced compliance professionals grow into their roles effectively.
If your business would benefit from this support, contact us today through enquiries@impactiom.com, on 01624 820601, or to save time, book directly into our calendar here.