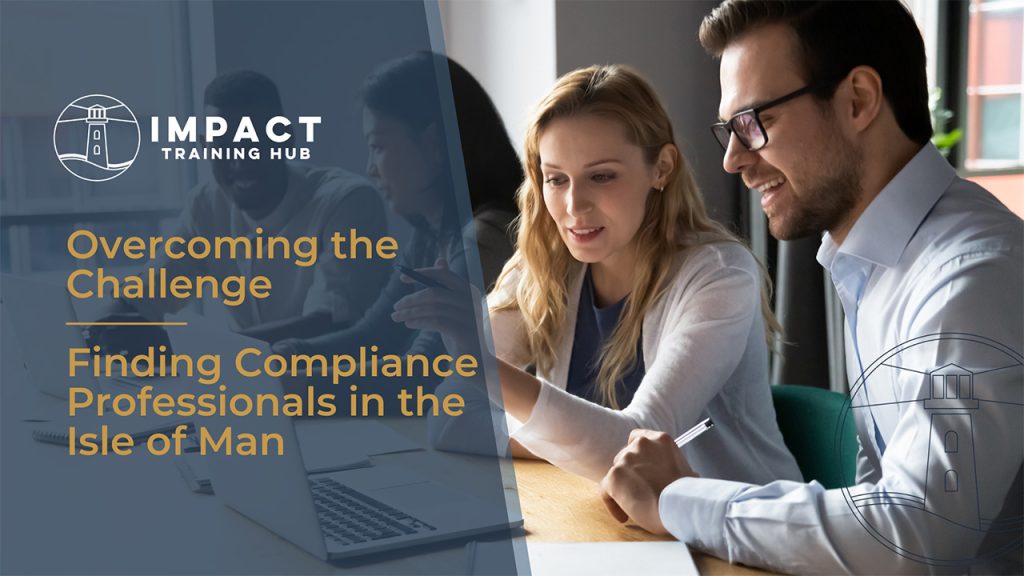 The Isle of Man is renowned for being an excellent place to work. However, like many other regions, it faces challenges in recruiting and retaining compliance professionals.
This was something that came up in conversations at the recent AICP MLRO forum along with the inevitable impact on the current cost of compliance staff.
In this blog, we will examine the unique hurdles faced by the Isle of Man in recruiting compliance professionals and present practical solutions to overcome this issue effectively.
We've all noticed that the demand for compliance professionals has surged in recent years due to evolving regulations, increasing responsibility for compliance professionals and the complexity of the global economy.
The Isle of Man also suffers geographically with a limited talent pool available, making it challenging for organisations to find qualified candidates.
Often combined with a feeling of being under-appreciated, it's no wonder our industry is suffering.
Looking ahead, what solutions exist to overcome compliance recruitment challenges? Let's take a look.
Solution 1: Foster a Positive Compliance Culture:
There's an argument to say the role of a Head of Compliance is THE most important in any business.
They have the unenviable task of staying abreast of constantly changing laws and regulation. This can include everything from developing compliance plans to conducting audits to investigating compliance violations.
It's a demanding job that requires a great deal of knowledge and attention to detail. Unfortunately, Heads of Compliance often feel isolated and unsupported in their work.
While the Head of Compliance may not always be in the spotlight, their work is essential to ensuring that an organisation avoids potential legal problems. In the knowledge that if something is missed, they face potential personal liability along with the Board members.
This is a huge amount of responsibility for one person. And nor should it be the sole responsibility of one person.
Compliance is a collective responsibility that begins with leaders setting the tone at the top. By modelling compliance-related values and behaviours, promoting open communication, and encouraging employees to report concerns, businesses can establish a positive compliance culture.
Alongside this, senior management must ensure that the compliance team has the necessary resources and authority to fulfill their duties effectively.
Solution 2: Rewarding Compliance Professionals Adequately:
Such huge responsibility should be reflected with competitive salaries to retain compliance professionals. By recognising their contributions and providing incentives, organisations can encourage these professionals to remain committed to their roles.
Additionally, opportunities for career growth and development should be provided, allowing compliance professionals to see a clear path for advancement.
Solution 3: Regular Training to Stay Updated:
To ensure compliance professionals stay abreast of the ever-changing regulations, regular training is crucial. Providing access to in-person or online courses, seminars, and on-the-job training enables compliance professionals to maintain their knowledge and skills. Investing in continuous training equips businesses with compliant talent that stays ahead of the curve.
Solution 4: Cost-Effective Outsourcing of Compliance Support:
Engaging the support of seasoned compliance consultants, such as Impact Professional Services, provides businesses with a flexible and cost-effective solution to meet their compliance needs.
Our experts are currently supporting regulated Isle of Man companies in a number of ways including:
Supportive mentoring to help less experienced compliance professionals grow into their roles effectively
Gambling supervision license applications – for those egaming starts ups without the experience or time to do this important job to the required level of detail
Health checks, gap analysis and recommendations to ensure that the limited time of existing compliance staff is spent effectively in the exact areas that require attention
Part time roles – we have the flexibility to cover your organisation's complian
responsibilities, suited to your budget with the option to scale when you're ready
Stop gap, short term fix solutions – you may be between compliance staff. We're here to support you.
Our experts specialise in regulatory compliance in the Isle of Man, helping businesses identify gaps and develop risk mitigation strategies.
By outsourcing compliance support, businesses can focus on their core operations while ensuring compliance requirements are met.
They say a problem shared is a problem halved. Get in touch today to lighten your compliance load. You can book a complimentary initial consultation right into our calendar here, or if you prefer, email us on enquiries@impactiom.com or call 01624 820601.